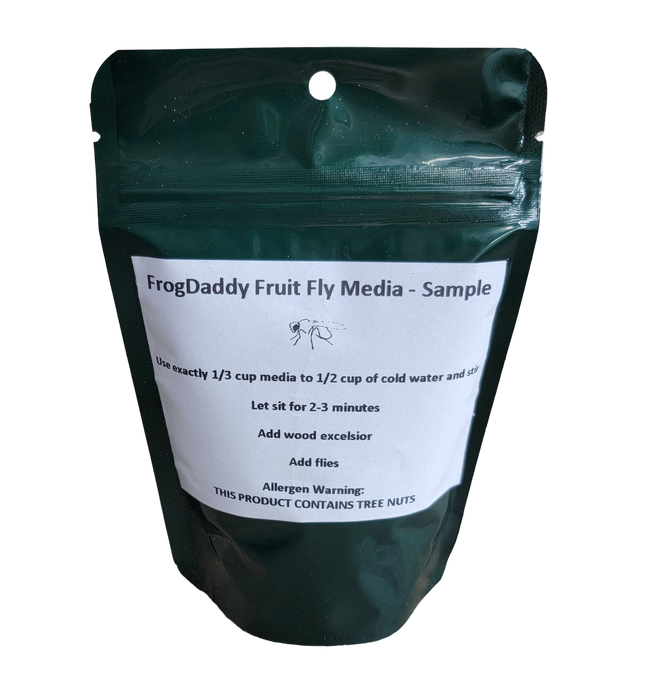 Sample Pack - FrogDaddy Premium Fruit Fly Media
Don't know if our fruit fly media is for you? Hesitant to pull the trigger due to price? Look no further! Here is our sample pack of brilliantly crafted fruit fly media for only 10.00 shipped to your door! This pack makes 3 cultures, and as previously stated, is 10.00 only and includes the shipping cost!
FrogDaddy Fruit Fly Media is a premium, high-yield mix of all natural ingredients using our signature cinnamon crumble (made from scratch!). Check out our full ingredient panel below.
YOU MUST USE 1/3 CUP MEDIA TO 1/2 CUP WATER. LET SIT FOR 2-5 MIN TO SOLIDIFY. 
If media is still dry when mixture is agitated, add more water. 
Great for culturing D. melanogaster flies. For D. hydei, you will want to add a tablespoon of brewer's yeast per culture.
Has a sweet, baked goods smell. We guarantee the best smelling cultures or your money back.
See our Fruit Fly Care sheet in our Product-Specific Information section under the Information tab for full usage.
YOU MUST USE EXACTLY 1/3 CUP MEDIA TO 1/2 CUP WATER. LET SIT FOR 5-10 MIN TO SOLIDIFY. FAILURE TO FOLLOW INSTRUCTIONS WILL RESULT IN CULTURE FAILURE. You must use wood excelsior with our media. Coffee filters will results in culture failure. 
MEDIA OPTIMIZED FOR HIGH HUMIDITY ENVIRONMENTS. 
Ingredients: Potato flakes, oatmeal, brewer's yeast, non-fat dry milk, cinnamon crumble (organic cane sugar, wheat flour, cinnamon oil, cinnamon, cane syrup, margarine, salt, dextrose, sucrose), light brown sugar, walnuts, pecans, mango powder, banana powder, cocoa powder (pure), paprika, cinnamon, methylparaben.