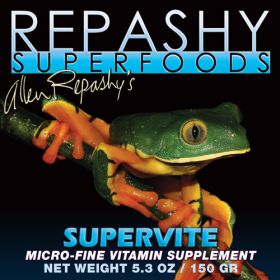 Supervite
Micro-Fine Vitamin Supplement
Our Micro Fine Vitamin Supplement powder. Contains both Preformed Vitamin A and Beta Carotene.
INFORMATION: SuperVite is the same Vitamin formula that has been the backbone of the SuperFoods line of complete diets and supplements.
INGREDIENTS: Cellulose Powder and Calcium Carbonate (as carriers), Vitamins: (, L-ascorbyl-2-polyphosphate, Vitamin A Supplement, Vitamin D3 Supplement, Vitamin E Supplement, Niacin, Beta Carotene, Pantothenic Acid, Riboflavin, Pyridoxine Hydrochloride, Thiamine Mononitrate, Menadione Sodium Bisulfite Complex, Folic Acid, Biotin, Vitamin B-12 Supplement).
GUARANTEED ANALYSIS:  Vitamin A 200,000 IU/lb, Vitamin D 20,000 IU/lb, Vitamin E 2,000 IU/lb, Vitamin K (Metadione) 30 mg/lb, Vitamin C (L-ascorbyl-2-polyphosphate) 2,500 mg/lb, Vitamin B1 (Thiamine HCL) 40 mg/lb, Vitamin B2 (Riboflavin) 70 mg/lb, Vitamin B5 (Patothenic Acid) 130 mg/lb, Niacin 450 mg/lb, Vitamin B6 (Pyridoxine HCL) 55 mg/lb, Vitamin B12 .4 mg/lb, Folic Acid 20 mg/lb, Biotin 2 mg/lb, Choline 5,000 mg/lb, Beta Carotene 500 mg/lb.
DIRECTIONS: This product can be used as a stand-alone supplement, or combined with the SuperCal series of Calcium supplements to balance both vitamin and mineral requirements. For insects, dust using the "shake and bake" method. For fresh fruit and vegetables, mix one heaping teaspoon per Pound.
Made in USA
Refrigeration will extend freshness
NOT FOR HUMAN CONSUMPTION