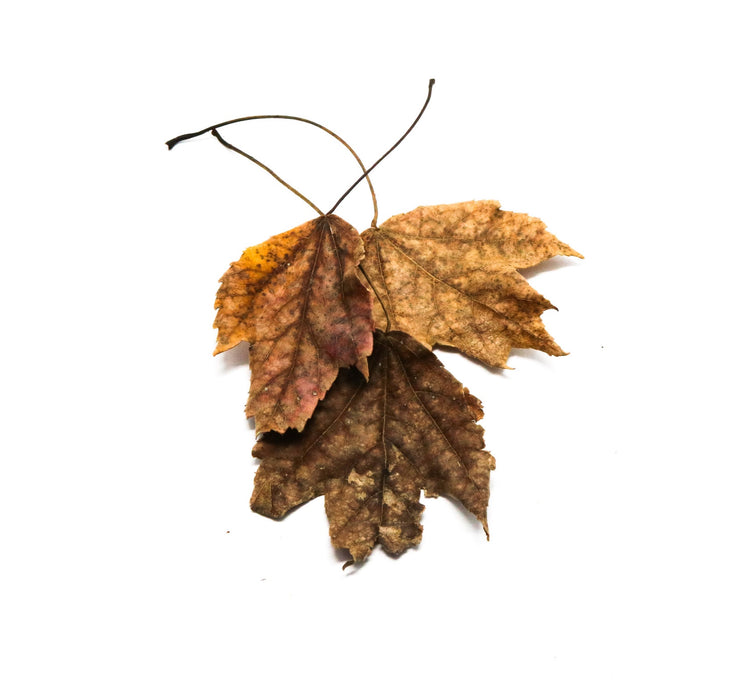 Maple Leaves (Acer spp.)
Maple leaves from pesticide / herbicide free locations. Fully desiccated. These leaves are most often between 1-5" long, and vary in color from red to yellow to brown. Only dried leaves will be shipped. If you would like fresh, green leaves, please contact us for availability. Our Maple leaves can consist of: silver maple, red maple, or other types of maple. Please understand that type of maple will vary with inventory / stock levels.
The sorting process of maple is as follows:
We actively sort through leaves and pull out the majority of broken leaves.

We sort the leaves through any sticks, acorns, rocks or other materials. These leaves are poured into sorting vats and are not cleaned, only dried (may be heat treated per request). Therefore, there may be minimal traces of sticks, acorns, rocks, or plant material. We do our very best to give you a premium product.

We make sure the leaves are bone-dry for packaging.
Leaf litter is useful for dart frogs for hiding, preventing stress, and even egg-laying sites. Maple leaves are thinner than most commercially available leaf litter, and decay rapidly in a vivarium. Maple are our fastest decaying leaves that we offer, making them great for isopod cultures and the lower layer of leaves in a vivarium.
FrogDaddy leaf grades:
AAA - Pristine, High Quality Leaves. These are display tank / exhibit quality. They are always fully cleaned / sterilized and contain 0 breaks or imperfections pre-shipment. We rarely have these leaves available.
A - High quality leaves. Thick cuticle of these types are cleaned and sterilized. Thin cuticle are meticulously sorted for purity. These are the "standard" leaves we sell.
B - Leaves with imperfections, breaks, and minor debris. Thick cuticle leaves are still cleaned and sterilized. Thin cuticle leaves are sorted but contain higher amounts of debris than A - grade.
C - Leaves with some breaks and tears. Some have many imperfections. Thick cuticle leaves are not cleaned or sterilized; they are simply sorted. Thin cuticle leaves may be dirty, and are sorted but done so quickly and may contain large amounts of debris.
D - Leaves with many breaks and imperfections; the lowest grade. These leaves are harvested and shipped without regard to sorting or cleaning. We strongly recommend either only using these with invertebrates or boiling / cleaning yourself.