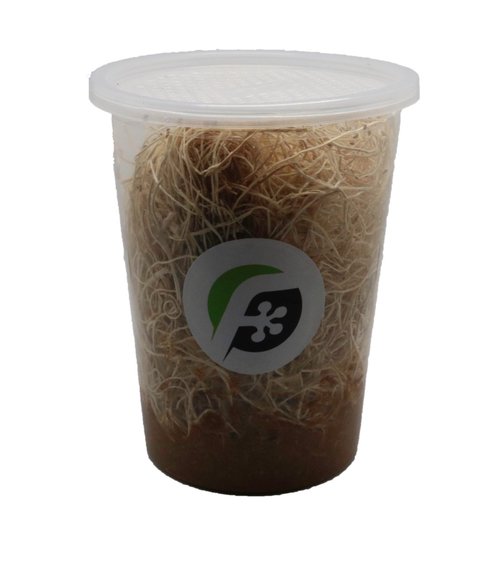 Fruit Fly (Drosophila melanogaster) wingless culture (FRESH - NOT FEED-READY) - 32 oz
June 01 - August 31 there is NO LIVE ARRIVAL GUARANTEE ON ANY FRUIT FLY CULTURES!
THESE CULTURES ARE NOT READY TO BE FED FROM. THESE ARE FRESH CULTURES, MEANING THEY WERE JUST SEEDED WITH FLIES, AND WILL NOT PRODUCE FOR ANOTHER 7-10 DAYS. ALL ADULT FLIES MAY DIE IN TRANSIT, THIS IS NORMAL.
WHOLESALE OPTIONS ARE NOW LISTED. YOU CANNOT ORDER ANY OTHER ITEMS WITH A 36-PACK FRUIT FLY ORDER, AS THIS IS THE MAXIMUM AMOUNT WE CAN FIT IN A SINGLE BOX. ANY ORDER WITH MORE THAN 36 CULTURES WILL BE CANCELED.
We have hundreds of happy customers and our fruit flies are guaranteed to be amazing. We have optimized these cultures for years, and keep our strains of flies vigorous. We are extremely dedicated to providing a fantastic experience and consistent stock. 
Why do we only breed D. melanogaster? We only feed these flies, even to our largest frogs, and we have over 2000 individuals. Here are a few reasons:
1. Higher, faster yields. Hydei can take twice as long to reproduce. 
2. Melanogaster outcompete mite cycle, hydei reproduce too slowly to do this, so you can never beat mites. 
3. Eaten by all dart frogs, regardless of size.
4. Apterous melanogaster (wingless, not flightless), cannot covert to flying, like hydei and flightless can. No messy kitchens and annoying fliers!
Please read our DOA policies on flies under the information tab. This culture has just started (2-5 days old) and will come pre-seeded with 50-75 wingless fruit flies packed in FrogDaddy Media. Adults may be dead on arrival due to them being older flies. Dead adults does not warrant replacement...again this is normal. You are looking for actively moving maggots in the media. It will take approximately 7-14 days to produce flies from when you receive it depending on environmental conditions (60-65 degrees may take 14 days, 78-81 degrees typically takes 5-7 days).
If you make your own cultures from producing cultures, fresh from day 1 take around 9-20 days depending on temperature.
You can keep cultures in an enclosed bin with a small amount of ventilation with a heat pad on LOW to increase humidity and speed up breeding if you are in a dry, cool climate.
Under absolutely optimal conditions (79 degrees and 60+% humidity), you may have new flies in less than 10 days.
Please review our fruit fly care sheet for additional information.